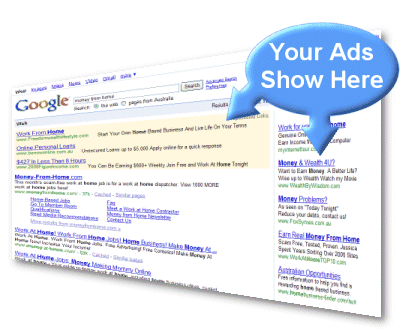 Many business owners achieve great success at getting leads, customers and sales using Google's AdWords pay per click (PPC) service. When someone is interested in a product or service online they do searches on Google using a relevant search term associated with the product or service.
Then, through Google's Adwords program an advert appears on the front-page in the top 3 positions, or on the right-hand-side. For example if you have a dog grooming business, then the most likely search would be for 'dog grooming your city name'.
The great news is that the advertiser only pays for their advert if someone clicks on it, hence: pay per click. And you must bid for the search phrases (keywords) that you want your ad to appear for. The more you bids the more chance you have of your ad being seen.
The Secret To Successful Adwords Campaigns
One of the secrets to successful Google Adwords campaigns is making your ad copy as relevant to the search query as possible. Other companies offer a pay per click advertising service, but Google AdWords is by far the most popular.
AdWords can be broken down into six stages al of which help to make sure that you can get the best possible return on your advertising dollars. Let's have a brief look at each of those stages…
1. Keyword research:
Google provides you with a keyword planner tool that helps you to identify related keywords that you could potentially sue to drive qualified leads to your landing pages. They give you an approximate idea of how much it will cost to bid for pay per click adverts on them.
There are no limits to the amount of keywords you can use. Keep in mind though that the aim of the game is to convert this traffic to leads or sales. So over time you will need to determine what keywords are working to drive 'buyers' to your landing pages as opposed to just browsers or tire kickers.
I usually find that it can take up to 2 or 3 months of monitoring and measuring results before you have the Adwords formula working at optimum levels. And even if you start with 100 keywords, it will almost always be the case that there are just a handful that drive the bulk of the traffic.
2. Build your pay per click campaigns:
You then build your AdWords Campaigns. Groups of related keywords are put into ad groups. Each keyword was given an opening bid, and copy was written for adverts for each ad group. Multiple ads are created and tested (split tested) for each ad group.
4. Landing pages:
A landing page is the first page people see after they click the ad text on your AdWords ads. These pages need to be relevant to the ad groups and keywords that you are targeting for the page. Google have an algorithm that looks at the 'quality score' of your campaigns based on the quality of the ads and landing pages triggered by the keyword.
Typically, the higher the quality score the better your campaign will run and the lower the cost-per-click you will pay and the better position you ad will receive on the front-page (i.e. higher up).
5. Tracking, measuring and reporting:
Impressions (how often your ads appear), click-through-rate (how often your ads are clicked on), response rates (how often people respond to your site's offers) are all measured and monitored for your
different keywords, ad groups and ads.
6. Campaign optimization:
The work of a good online AdWords campaign is never done. Using that monitoring data, keywords, ads and landing pages can be constantly refined and improved upon. Google make sure that they give you all the tools you need to be able to optimize your campaigns for the best results.
They offer FREE world class online Adwords training for you to easily get started with Adwords and learn how to effectively master the basics, manage ads, measure results, take care of the billing and be educated on their programs.
7. Keep on going!
Keep what is working. Improve or lose what isn't working and move on to the next campaign.
 The Major Benefits of Adwords (PPC)
Pay per click advertising has made other forms of online advertising, such as CPM (Cost Per 1000 impressions), banners and classified ads, pale in comparison. While they still have their place it is possible to spend money on these types of adverts and not see a single response in exchange.
Pay per click advertising is different. Your ad could be seen thousands of times by plenty of different people, but unless someone actually clicks on your advert you won't pay a cent for the privilege. In truth, AdWords advertising is heralding a whole new age of cost-effective online advertising.
With AdWords PPC advertising you only pay if someone clicks on your ad. With normal offline advertising you have to pay for people to see your ad whether or not they respond. This makes it a highly targeted form of advertising that puts your business right in front of the right people at the right time simply.
You can also use AdWords for the following reasons:
Flexible – AdWords is flexible. If you have a new piece of content an ad can go up today – with organic SEO he may have to wait some time before he is listed on the first page of Google results.
Control over location – you can control the locations (countries, cities and even postcodes) and when (i.e. what day(s) and even what time of day) your ads appear in relation to the keywords and sites you choose. With organic SEO this is possible, but it is a lot of work and certainly not possible to choose a day, or time!
Multiple formats – with pay per click he can advertise on sites in many formats on the Google content network – this is normally faster and cheaper than going to each site individually.
Long tail keywords – most importantly, you can target 'long tail' keywords – three or four word keywords – these can be much harder to target with organic SEO and of course take 10x the amount of time to get ranked (if ever).
Control over budget. You get to set how much money you want to spend per day on your ads. Most people new to Adwords typically start out low and then scale up as they increase confidence that it is a good fit for their business. This will vary greatly depending on the product or service competition levels and the size of the location you are targeting.
Overall, Adwords is a good fit for almost any product or service you want to promote online. The key is that the more skilled you get at using it, the better your results will be. Your choices really are to either invest the time yourself in learning how to run it yourself, or pay a qualified Adwords professional to to run it on your behalf.