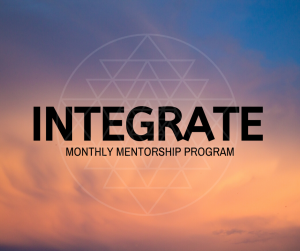 Integrate Group Coaching 
Integrate is a monthly group coaching program that is designed to give you the strategies, tools, guidance and support you need to implement wisdom into your life while unlocking your true potential.
If you feel like you're "done with online courses" but you're still determined to take your health, relationships, career, finances or even your spiritual awakening to the next level, a coaching program is absolutely essential.
Integrate is your chance to immerse yourself with a group of extraordinary leaders and visionaries who will push you, support you, and lift you up like never before!
In this monthly mentorship, I'm sharing all my tools, strategies and secrets to rapid transformation (and getting unstuck) in the one place.
I share what I am currently learning and applying in real time as both a student and a teacher to many (I'm studying with some of the best life and spiritual mentors in the world!) and invite you to journey alongside me and a powerful group of like-minded and highly inspirational people to step into your greatness with us!
What to Expect:
More clarity and what's important to you and where to get started

How to better results with less effort

A proven success path to follow

Less stress and anxiety

New empowering habits

More happiness and joy

Make deep, meaningful and sustainable changes in your life
The promise of Integrate Coaching is simple: to activate SELF-MASTERY in ALL areas of your life… to catapult you past your comfort zone and into a whole new world of possibility and quantum growth.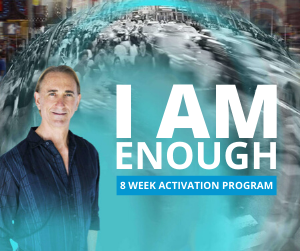 I Am Enough Program
I'm gathering a small group of people who are ready to step up and serve at deeper levels, break free from what's been holding them back, reach their fullest potential and creating an extraordinary life.  
This is not just about doing some more transformation work on yourself where you learn some stuff and then forget about most of it by the end of the week. It's about rapidly reprogramming your subconscious for abundance in Health, Wealth & Love. 
If you want to unlock your limitless potential then you have to permanently shift what's been holding you back, and when you do, you empower yourself in ways you cannot even fathom. If this sounds like you, then click below for an application call.
5 Days to Better Sleep 
Do you have problems falling asleep or staying asleep? This is one area of your life that can't be easily ignored as studies have shown that the cumulative impact of sleep deprivation on your health, performance and quality of life can be quite destructive.
I used to suffer from insomnia so I know what its like to get after a few hours sleep each night only to feel groggy and exhausted before the day even began. After several months of this I decided to do whatever it took to heal this part of my life.
That led me to studying how the mind and body worked and what science could tell me about sleep. 
As I applied what I was learning I discovered what did work for me and what didn't.
Along the way I also started to help others who were having difficulty with their sleep patterns and they also started to see improvements. That's when I decided to package up the inspiration and tools that I was sharing with others into a 5 day challenge.
This program will set you up to finally know how to set yourself up for success when it comes to sleep. Once your sleep is right, you'll find that others areas of your life also start to come back into balance.